As the weather continues to improve the closer we get to summer, it is important to find healthy ways to cool down in the heat. We may not be as warm as Spain or Portugal but we might get lucky with a heat wave in the summer and you can find yourself coming back to these recommendations.
Juices
Juices are a fantastic way to get nutrients, the cold pressed  versions are even better for you with some products boasting 25 grams of protein, it is not wonder that they are gaining in popularity. Three suppliers that have become popular are Sprout & Co., Green Beards and Puregreen, but unfortunately these juices are only supplied to the Dublin area. If you cannot get your hands on these cold pressed juices or see them as too expensive, consider buying a juicer or if you are willing to spend more a cold press juicer gives more nutrition.
Gazpacho
Gazpacho soup is a cold tomato based soup with other raw vegetables added. Although it may seem strange to have cold soup for lunch, this dish from Andalusia region in Spain is perfect for a warm summer's day. One recipe that was found to be healthy and easy to make is the one at eatingwell.com.
Fruit Salad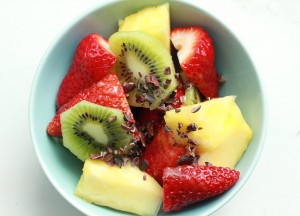 There are two things that are great about fruit salad. Firstly they are extremely easy to make, if you can cut fruit and mix it together you can make a fruit salad. Secondly they are extremely versatile as you can choose what you want to put in based on what nutrition you need and what you like. What is important in making a fruit salad is to know exactly what you are putting into it. This chart shows the breakdown of the nutritional value for each fruit.
Iced Green tea
W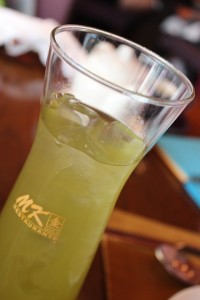 hen sitting out in the garden baking in the sun it can be tempting to have a nice cold glass of coke, but a nice alternative to this is to make some iced green tea. The ingredients are simple; green tea, ice, and water. Adding some mint also helps to giver the drink a more refreshing taste.
Bloody Mary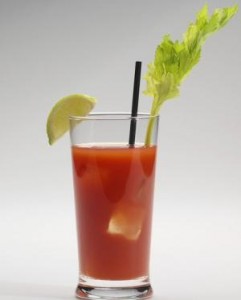 On your day off in the summer you might want to have something with a kick in it rather than a glass of ice tea. One drink that comes to mind is a Bloody Mary, as it is one of the healthiest alcoholic drinks you can have. It is a nice way to finish out a long week, enjoying the sun without feeling too bad about what you are putting in your body. The recipe for a reduced carb bloody mary can be found here.
FitFuel Ice cream
Okay so you knew this was going to be on the list, but that is because it should be on the list. When thinking of cooling down in the unbearable Irish heat Ice-cream is always the first thing to come to mind. You have been working hard all week though and want something that is pretty healthy for you. There is nothing better than a tub of FitFuel to keep you from feeling too guilty.